We left panel 6 with just the wisteria left to do
Materials: DMC 209 / 211 / 553 - Variegated 105 -  DMC 564
Stitches used: Raised stem stitch / Fly Stitch / Stem Stitch & French Knots
Using 2 strands of the variegated thread at the darkest brown end, I cut a length off and made straight stitches along the top of the pergola, and the main mast ready for the raised stem stitch. To do raised stem stitch, bring the needle below the bar, slide the needle under the bar, gently pull the thread till its tighten and then move up to the next bar and slide the needle under, continue to do this till you get to the top of the mast then take the needle back to the bottom and start all over again. continue in this fashion till the mast is covered. The same is done across the pergola.
here you can see the bars in and the first row of raised stem stitch
Here is the top of the pergola finished in raised stem stitch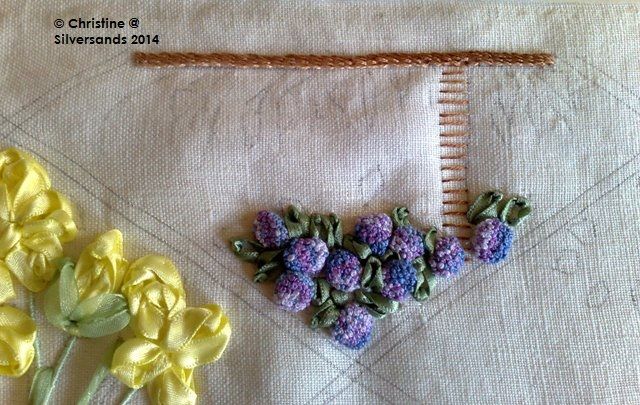 As you can see the variegated thread makes a nice contrast.
here is the pergola and mast complete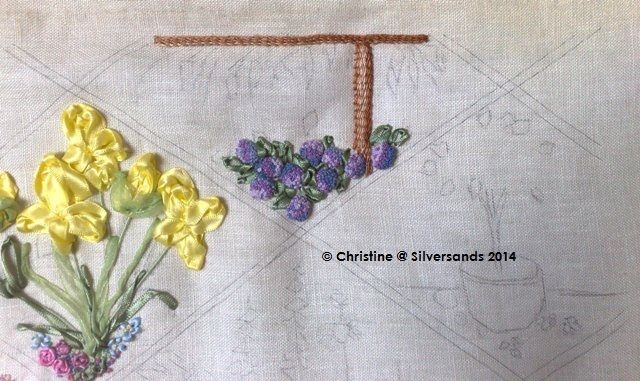 next is to add the wisteria, you need to create a wrapping stem around the mast then weaving stems across the top of the pergola, I did the top of the pergola winding branches in stem stitch, the hanging branches and leaves are done with stem stitch and fly stitch (which we have covered in previous tutorials) and the wisteria themselves are done in French knots.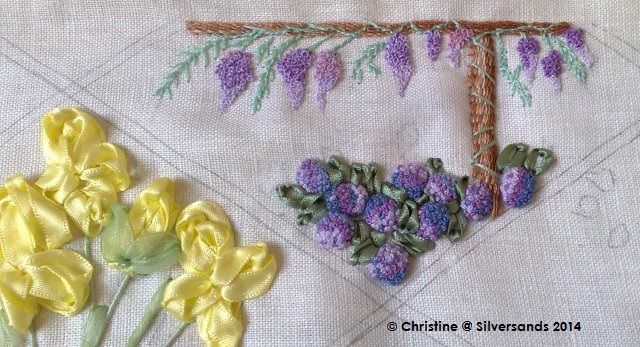 The French knots are done with 2 strands near the top of the wisteria flower tapering to 1 strand near the point, I also experimented by using 1 strand of 553 & 1 Strand of 211 in the needle and think that the wisteria on the left hand side blend a lot better. As no flowers in nature are exact in colouring I think the experiment provides a bit of contrast.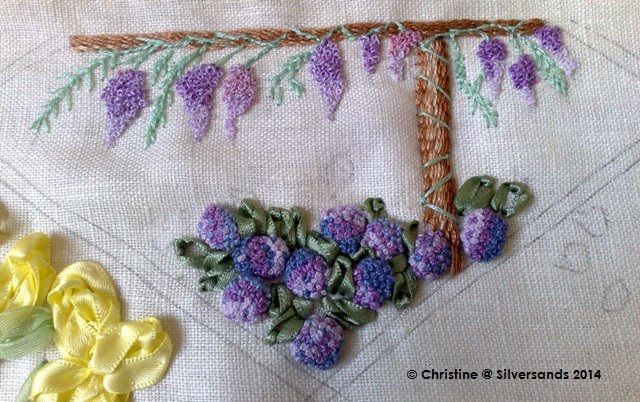 So this is the Hydrangea and Wisteria complete and our panel looks like this so far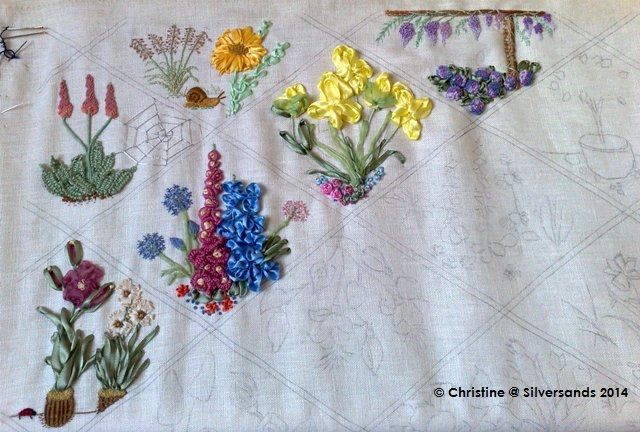 Our next panel is Red Hot Pokers, Arum Lilies and Natal Lily. Hope I am not boring you and your still with me.
Till we meet again.